How To Start A Business, Fail, And Then Come Back Stronger
Feb 17,2021 | Miss Balance
Founder of Revved Athleisure @revv.ed, Certified Spinning ® Instructor At Sync Cycle, Spends A Bit Too Much On Activewear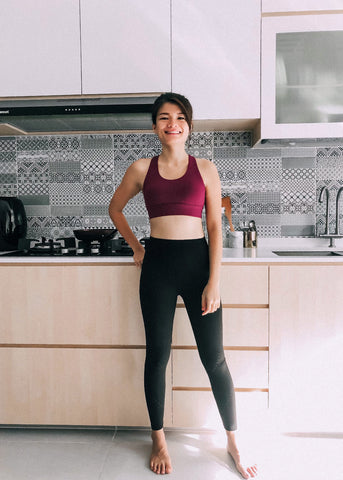 The name I chose for my activewear brand, Revved Athleisure, was inspired by the rhythmic ride cycling or high intensity indoor cycling classes I teach at Sync Cycle. As a rhythmic ride cycling instructor, I am constantly telling (or yelling, really) at my students to "Rev up your cadence!" I'm always encouraging them to speed up and to increase their intensity so they will come back for their next class stronger than they were before. But there are times you have to slow down and stop because that is what helps you come back stronger. That's what I've learnt from dabbling in the activewear business.
Revved Athleisure is not my first foray into the activewear business. I was reselling branded activewear that I brought in from overseas four years ago, which included brands like Aloyoga, Beyond Yoga and Lotus Activewear. I was frequenting a lot of gyms for yoga and rhythm cycling classes back then, and I realized that people weren't too particular about what they were wearing to these classes. That is, they were working out in dri fit t-shirts and FBT shorts (remember those days?). I thought it would be a good idea if I brought in more aesthetically pleasing activewear that I was a huge fan of buying and resold them online. But the activewear I brought in moved very, very slowly. People didn't care as much about what they wore to gyms back then, and if they were looking for activewear, they would look for brands like Nike and Adidas. International yoga activewear brands and local activewear brands hadn't gained much traction yet. Also, there weren't as many people exercising four years ago because we didn't have as many fitness studios as we do today. I was revving up my cadence, but it wasn't taking me anywhere. So I gave up on the business.
I decided to give it another shot in August last year. The timing was much better as the market seemed more interested in aesthetically pleasing activewear. More people had started exercising following the increase in fitness studios that have popped up over the years. The recent lockdown we went into was another catalyst that got many to start exercising to kill boredom. People also care more about the aesthetics and functionality of what they wear while they are exercising now, given that so many more brands offering quality items like Lululemon products are now easily available to them. A good number even wear activewear while grocery shopping or hanging out with their friends. But I knew that reselling other brands wouldn't work now. It's become much more convenient for people to buy them online, given that so many companies offer worldwide shipping and competitive discounts during special sales like Black Friday now.
So I decided to design and produce my own pieces for Revved Athleisure. Having full control of all aspects of production gave me the freedom to come up with my own unique designs. I would also be able to make sure they fit my customers well, most of whom tend to be Asian, especially important given that consumers tend to be more particular about the fit of their activewear now.
My pieces are selling much better now compared to when I was reselling other brands four years ago, even among crowds I didn't think they would be popular with. When I first started Revved Athleisure, I intended to target the younger crowd, people who were in their twenties to thirties as I knew that it was people in this age range who were using Classpass to go for classes in the fitness studios around Singapore. But during Circuit Breaker, I found out that some of my customers are more mature, in their thirties to fifties, who still want to look good even if they're just working out at home. Putting on aesthetically pleasing activewear makes them feel good about themselves even if no one sees them in it.
I remember I had a student in one of my rhythmic ride cycling classes who pushed herself so hard to the point that she had to be hospitalized for rhabdomyolysis, a condition where the breakdown of muscle tissue leads to the release of muscle fiber contents into the blood which can damage the kidney. This condition is often caused by overexertion and can happen to the fittest people. Her episode serves as a reminder that as much as we have to rev up our cadence to reach our goals, whether it is completing a satisfying workout or launching a business, we must also know when to stop. If we don't, we may end up in the hospital or losing even more money. Sometimes coming back stronger doesn't always mean revving up your cadence but stopping when you feel pain or when something's not working and then coming back to try again when things are better.
________________________________________________________________
Speaking of activewear, are you looking for the right shoe to match well with your outfit as you make your way to the gym? Try out Sunnystep's Balance Runner shoes. With their in-sole support, blister-free and wider front, this puts your feet at ease, and this will cause less pain as you wear them.
Comment